Antioch College
Education as the foundation of democracy
Founding year:
Jahr der Gründung:
1850
Time period:
time period:
Since 1850 with temporary closures in 1863, 1881, 1919 and 2008, last active since 2011
Target Group:
Zielgruppe:
Coeducational according to the charter of the church group Christian Connection, Antioch College was established amidst the cornfields and forests of Ohio. Education should be concerned with advancement for the betterment of society. Thus, it is the first coeducational college in the USA that offered equal educational opportunities to men and women. Students were not to be discriminated against in terms of race, gender, religion or social background. In the studies themselves, the college redefined liberal arts education. Understanding of theory, engagement in practice and action had equal value. The curriculum combined entrepreneurial aspects with theoretical educational content, creating experiential learning and teaching. At the same time, forms of liberal arts education formed early at Antioch College that are still common today. Among them: self-designed courses of study, study abroad, interdisciplinary studies, portfolio evaluation.
Education as the foundation of democracy and for the general betterment of society.
Equal importance of theory, commitment / practice and action.
Motto: »Be ashamed to die until you have won some victory for humanity.«
In the 1960s, »satellite schools« were founded. In 1978, this became Antioch University. Due to financial problems, there were several closures. In 2008, former trustees of the university, donors and alumni founded the Antioch College Continuation Corporation. The goal was to reopen. After the fourth closure, the university sold 25 buildings and 1,000 hectares of land to the Continuation Corporation for 6.2 million USD. Teaching reopened in autumn 2011. The college is part of the Great Lakes Colleges Association, a federation of 13 liberal arts colleges. Two Nobel Prize winners received degrees at Antioch College (José Ramos-Horta (1996) and Mario Capecchi (2007)). Antioch College is the nucleus for Antioch University, but broke away from it in 2008. Antioch College was the first institution to appoint a woman to its faculty and board of trustees. It was also among the first to commit to community self-governance and authentic student participation in institutional decision-making.
Initiators
Initiator*innen
Christian Connection. First President: Horace Mann
President: Thomas Manley
Further information
Further Information
Antioch Hall, designed 1852, the earliest known photograph of Antioch College campus, Photo: Antiochiana Collection of Antioch College, Yellow Springs, Ohio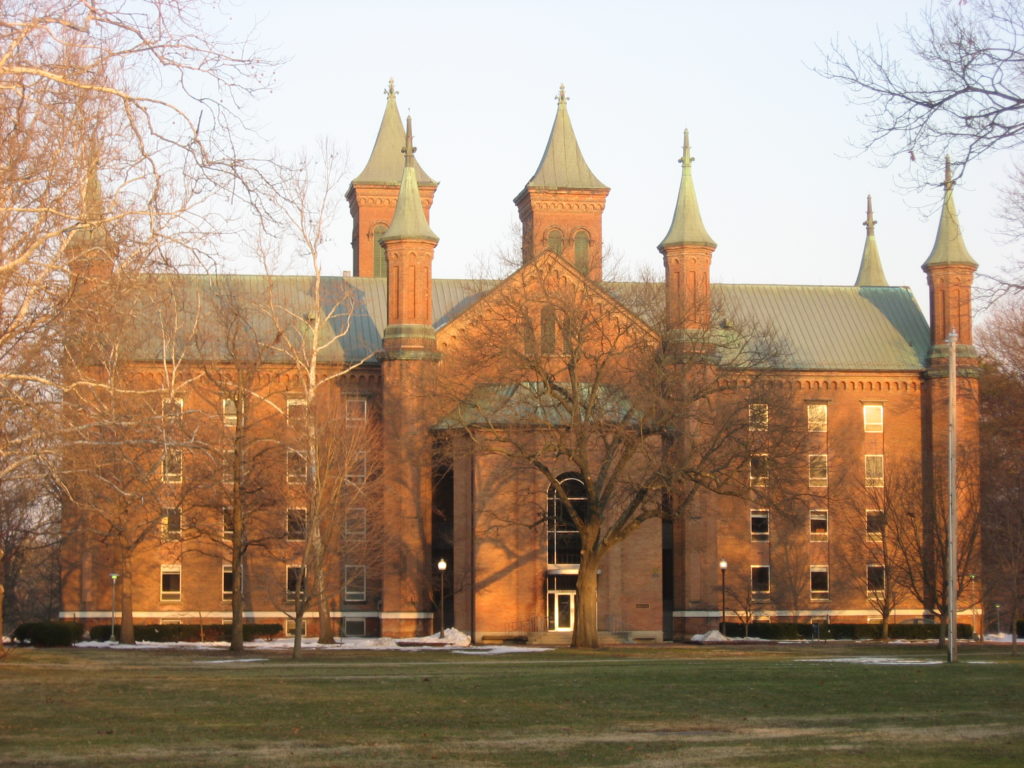 Rear view of Antioch Hall, 2010. Photo: Nyttend. Source: Wikipedia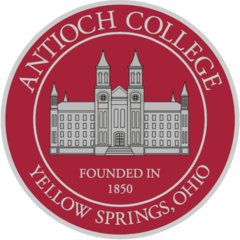 Logo Antioch College. Source: Wikipedia
Antioch College, Main Hall, Livermore Street & North College Avenue, Yellow Springs, Greene County, OH, vor 1933. Photo: Library of Congress, Prints & Photographs Division, Historic American Buildings Survey, HABS OHIO,29-YEL,1A-, Source: Library of Congress: www.loc.gov/item/oh0048/
distance-l8 - 1920
distance-l7 - 1602
distance-l6 - 1568
distance-l5 - 1440
distance-l4 - 1325
distance-l3 - 1164
distance-l2 - 1080
distance-l1 - 1024
distance-s1 - 799
distance-s2 - 720
distance-s3 - 640
distance-s4 - 414
distance-s5 - 320