Prinzessinnengarten
Mobile kitchen garden, learning and community space in Berlin-Kreuzberg
Founding year:
Jahr der Gründung:
2009
Time period:
time period:
since 2009
Target Group:
Zielgruppe:
Neighbours
Citizens
Everyone
Since 2009, the non-profit initiative »Nomadisch Grün« has been working with volunteers, neighbours and activists to transform a public wasteland in Berlin's Kreuzberg district into an urban oasis that is both a kitchen garden and a community space. The crops are grown locally, ecologically and sustainably. At the same time, it is a place to share skills and knowledge and to discuss alternative socio-ecological visions for the city. The space is rented annually from the city and financed through the sale of home-grown plants. The buildings are made of containers and the plants are in recycled bakery boxes, tetra packs and rice bags. The cultivation method ensures that the garden remains permanently mobile. In addition to urban agriculture, the place offers places to stay, including a small café, play facilities for children.
Garden as a social entity: Positive use of a former wasteland between Prinzenstrasse and Oranienstrasse in the form of urban agriculture (»transforming open spaces into productive greenery at the creation of places where people can learn and try things out together«. Nomadisch Grün, 2014, cit. Wikipedia, s.b.).
The place became overall a place of shared gardening and learning, open to all and functioning more like a participatory laboratory. The Berlin Senate Department for Urban Development cites the garden as a successful example of gender mainstreaming in urban development. The garden also receives global approval and attention. At the same time, the continued existence of the garden is always in jeopardy, as negotiations are renegotiated every year and other interested parties from the construction industry want to use the space for themselves.
Initiators
Initiator*innen
Robert Shaw and Marco Clausen
Nomadisch Grün Initiative, volunteers, neighbours, activists
Further information
Further Information
Prinzessinnengarten, Berlin. Photo: Staffan Cederborg, License CC BY-SA 2.0. Source: Wikipedia
Prinzessinnengarten, Berlin-Kreuzberg, Plant selection, 2011. Photo: Assenmacher, License CC BY-SA 3.0. Source: Wikipedia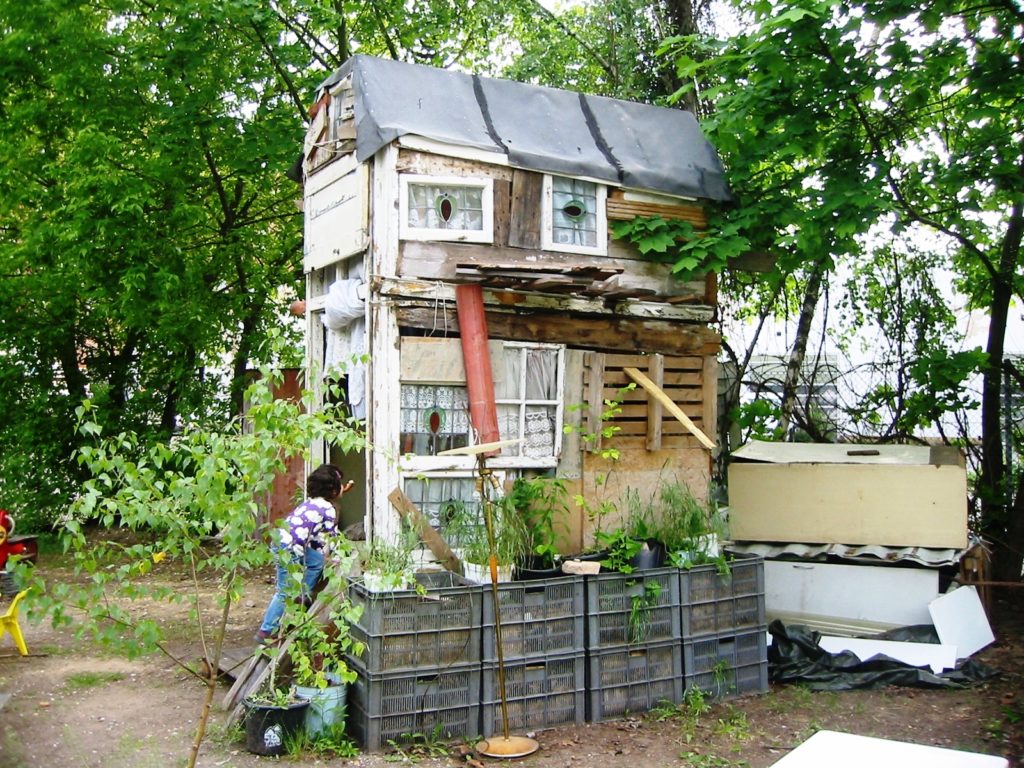 Play facilities for children in the Prinzessinnengarten, 2011. Photo: Assenmacher, License CC BY-SA 3.0. Source: Wikipedia
distance-l8 - 1920
distance-l7 - 1602
distance-l6 - 1568
distance-l5 - 1440
distance-l4 - 1325
distance-l3 - 1164
distance-l2 - 1080
distance-l1 - 1024
distance-s1 - 799
distance-s2 - 720
distance-s3 - 640
distance-s4 - 414
distance-s5 - 320