Black Mountain College
INTERDISCIPLINARY, UNIVERSITY EXPERIMENT / LIBERAL, SELF-GOVERNING ART SCHOOL
Founding year:
Jahr der Gründung:
1933
Time period:
time period:
1933-1957
University building and grounds, in the mountains near Ashville
Target Group:
Zielgruppe:
Black Mountain College was the leading institution for interdisciplinary artistic education in the late 1940s. Classes included fine arts, architecture, theatre, economics, physics and history. Among the teachers at Black Mountain College were many of America's leading artists, poets and designers, as well as numerous emigrants from Germany (including Anni and Josef Albers), who came to Black Mountain College from the Bauhaus after it was closed by the National Socialists. The students were taught and lived on an equal footing between empiricism and experimentation. Students were obliged to take on tasks from all areas of life, had access to all institutional levels of the college and decided for themselves when they graduated. There were no concrete performance records, official grade assignments or regular study periods.
Establish a democratic and, in the spirit of the reform pedagogical ideas of the philosopher John Dewey, experience-based, interdisciplinary teaching institute.
Holistic teaching and learning as a performative process that connects life and art and promotes free thinking (John A. Rice: »observation - judgment - action«)
Potential was discovered and promoted through joint work and experimentation. Pupils and teachers organised lessons and everyday life independently and democratically.
The nucleus for the work of many important artists.
Precursor to many alternative colleges in America.
Initiators
Initiator*innen
John Andrew Rice, Theodore Dreier, Frederick Georgia and Ralph Lounsbury
John Rice (Founder and first rector) 1933-1940
Further information
Further Information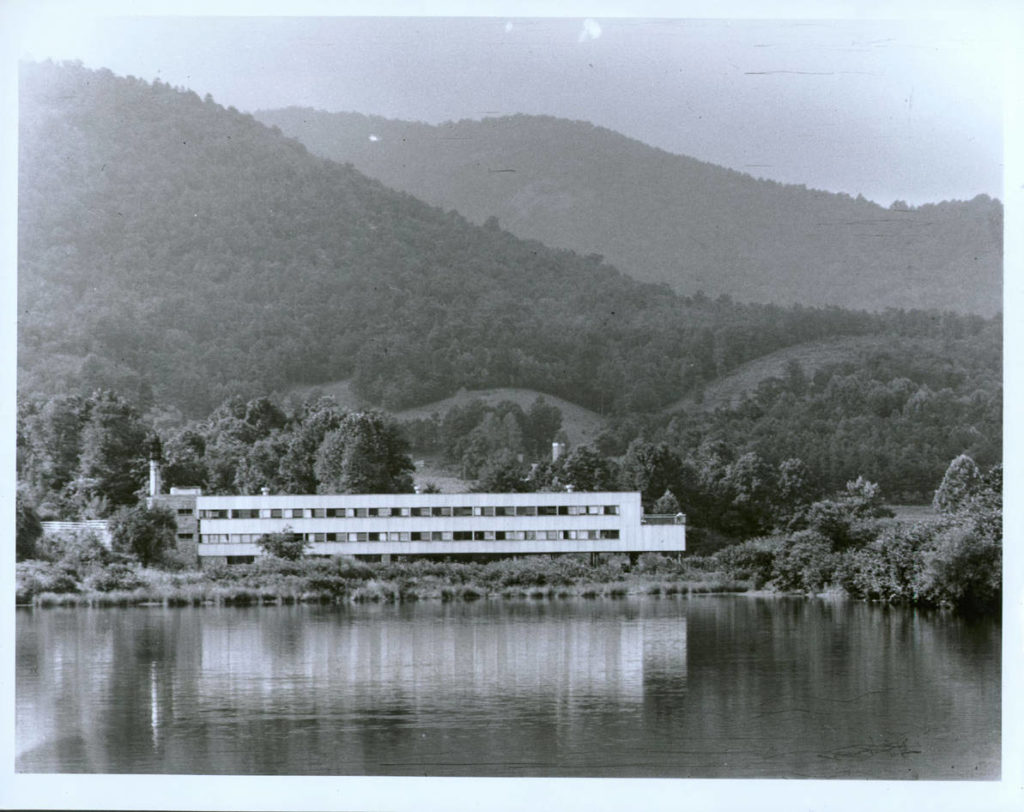 Black Mountain College Campus, View of Studies Building across Lake Eden, Architect: A. Lawrence Kocher, constructed by the students and faculty of Black Mountain College 1940-1941. Photographer might have been Claude Stoller, © Courtesy of the Western Regional Archives, States Archives of North Carolina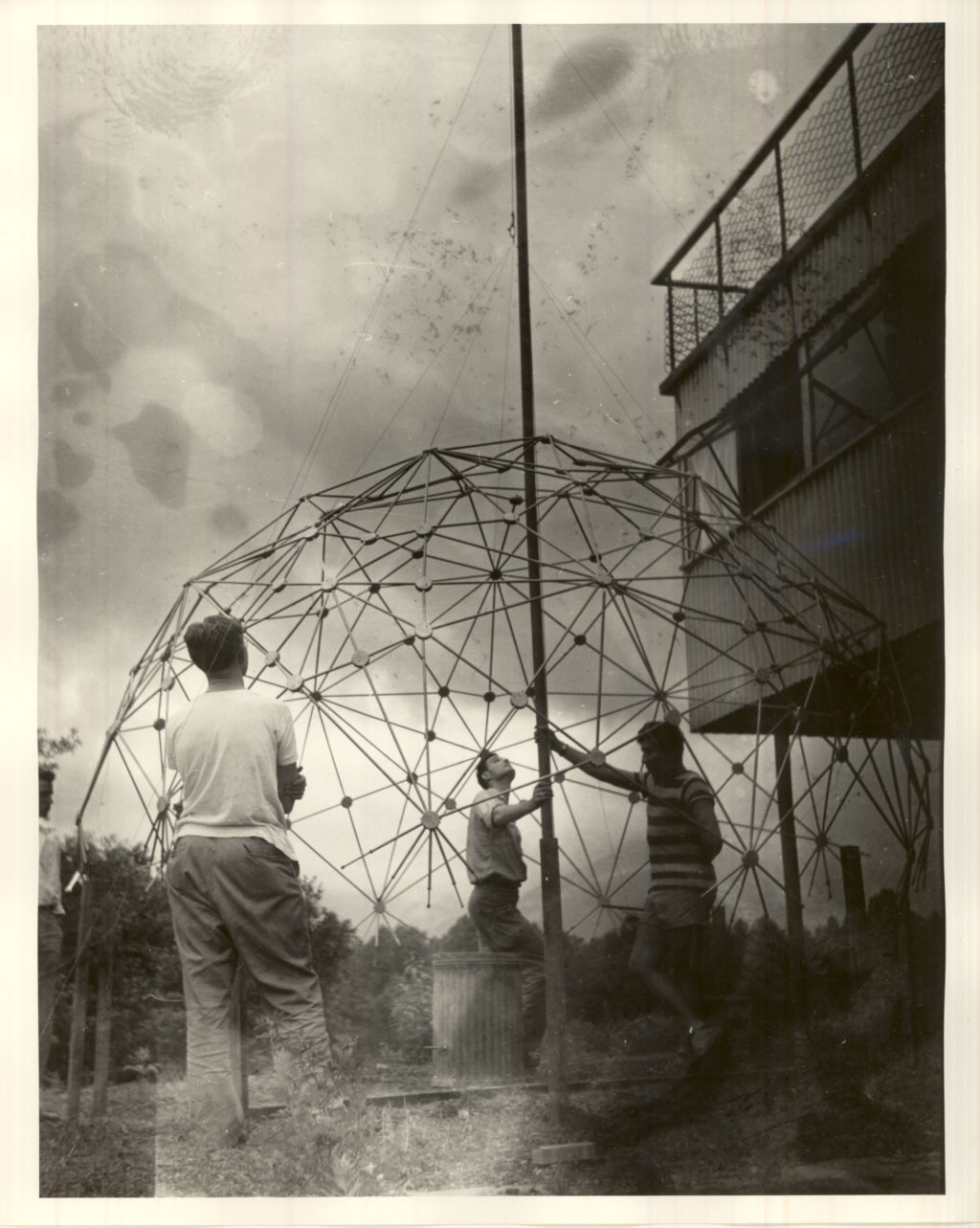 Buckminster Fuller and students reconstructing and demonstrating the Dome, Black Mountain College, summer 1949, Photo: Courtesy of the Western Regional Archives, States Archives of North Carolina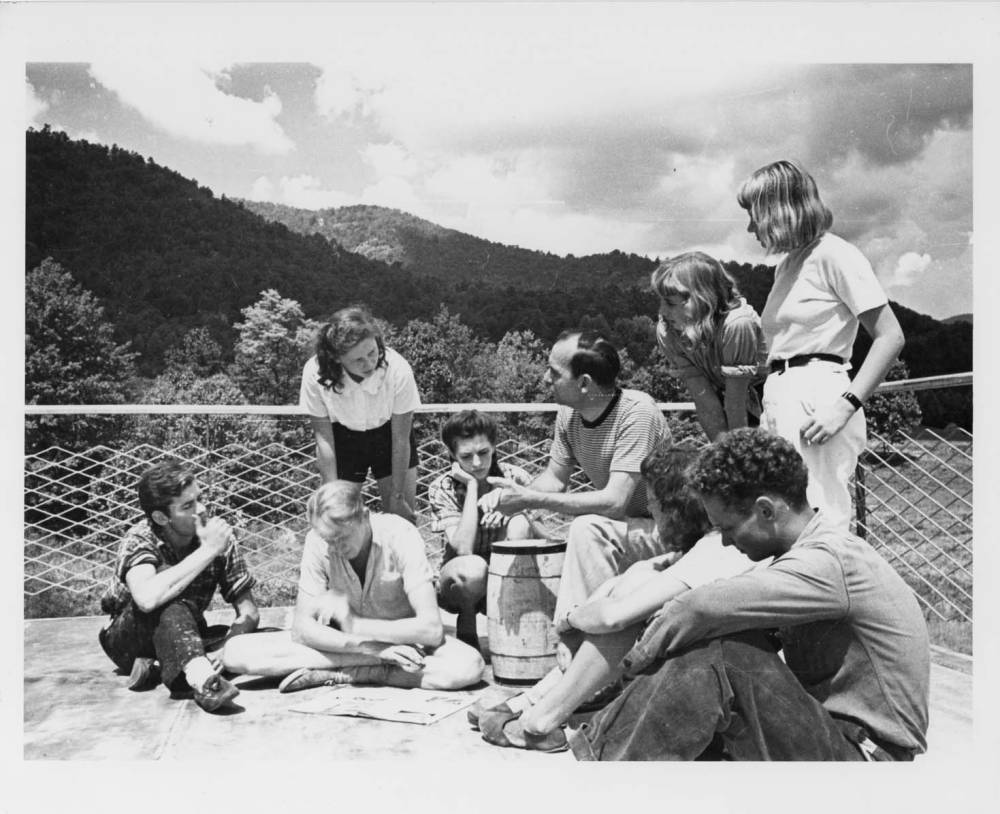 Lawrence Kocher with architecture students on the deck of the Studies Building, Lake Eden campus, Black Mountain College ca. 1941-1942, Photographer of this image was possibly Martha McMillan, © Courtesy of the Western Regional Archives, States Archives of North Carolina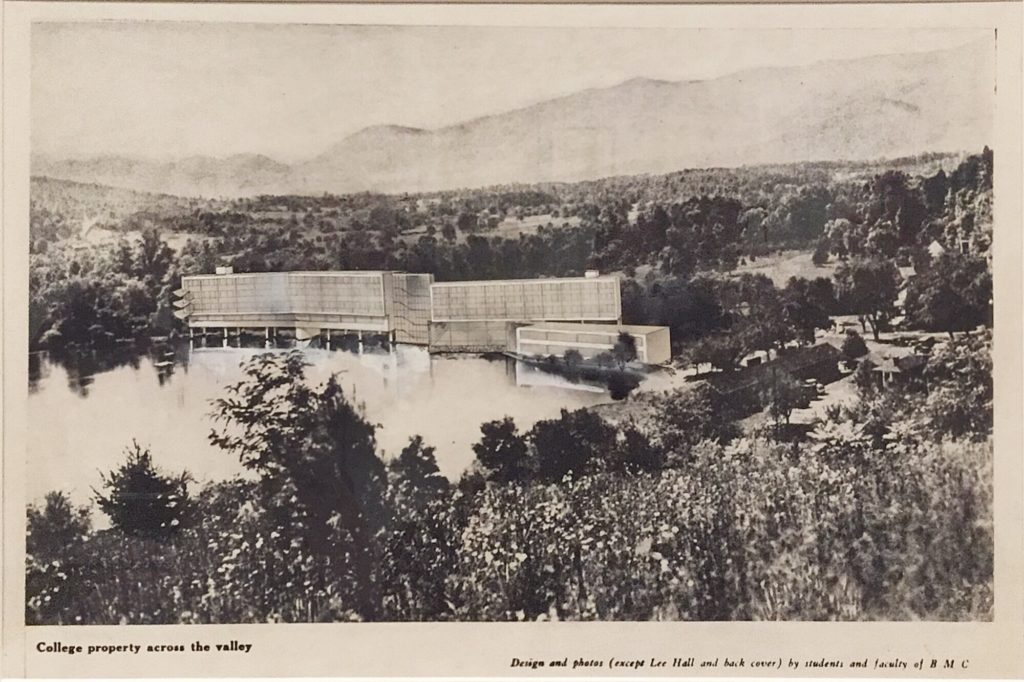 Drawing of planned campus building overlooking Eden Lake at Black Mountain College in Asheville, North Carolina (1938) Architectural design by Marcel Breuer and Walter Gropius (artist anonymous) Photograph with collage, ink, and gouache, on woven paper. Photo: Scanned from exhibit at Harvard Art Museums. Source: Wikipedia
distance-l8 - 1920
distance-l7 - 1602
distance-l6 - 1568
distance-l5 - 1440
distance-l4 - 1325
distance-l3 - 1164
distance-l2 - 1080
distance-l1 - 1024
distance-s1 - 799
distance-s2 - 720
distance-s3 - 640
distance-s4 - 414
distance-s5 - 320