Gezi Park Protest
Temporary occupation and protest movement in Istanbul
Founding year:
Jahr der Gründung:
2013
Time period:
time period:
May until July 2013
Target Group:
Zielgruppe:
Gezi Park is a four-hectare park in Istanbul and one of the few green spaces in the city. When the park was to be demolished in 2013 and a shopping centre built in its place, environmental activists began protesting in early May 2013. The protests and ultimately the prevention of the construction triggered a nationwide protest movement against the government in the summer of 2013. The protests were met with considerable violence by politicians and police: The police used water cannons and tear gas, the public order office set fire to the protesters' tent city spreading from Gezi Park to Taksim Square. The brutal crackdown on the movement was a catalyst that turned what had been a small protest into a nationwide mass movement. Throughout Turkey, people showed solidarity with the protesters and occupiers: Thousands lived and temporarily lived in the park, hundreds of thousands demonstrated in the streets.

The protests were not only for the preservation of trees, green spaces and accessibility of the city, but also for a democratic voice and freedom.
With the occupation of Gezi Park and the associated protests, Istanbul became the scene of an unprecedented public seizure of a central square, which was tenaciously defended, especially by a new generation. On 15 June 2013, the park was violently cleared by a large police force.
Initiators
Initiator*innen
Environmental activists, citizens
Environmental activists, citizens
Further information
Further Information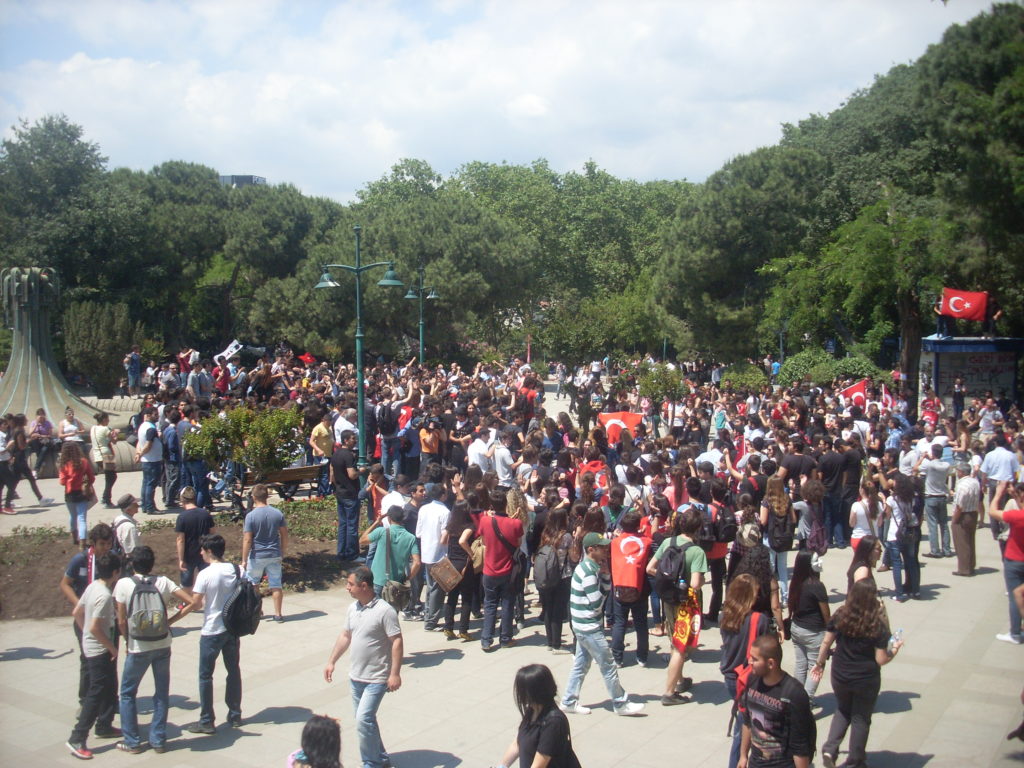 Protesters in Gezi Park on 3 June 2013. Photo: VikiPicture, License CC BY-SA 3.0. Source: Wikipedia
Protesters return to the square every day, 7 June 2013. Photo: Mstyslav Chernov – http://mstyslav-chernov.com/, License CC BY-SA 3.0. Source: Wikipedia
Clearance of Gezi Park by riot police on 15/16 June 2013. Photo: Mstyslav Chernov – http://mstyslav-chernov.com/, License CC BY-SA 3.0. Source: Wikipedia
distance-l8 - 1920
distance-l7 - 1602
distance-l6 - 1568
distance-l5 - 1440
distance-l4 - 1325
distance-l3 - 1164
distance-l2 - 1080
distance-l1 - 1024
distance-s1 - 799
distance-s2 - 720
distance-s3 - 640
distance-s4 - 414
distance-s5 - 320