El Campo de Cebada
Redesign of an urban and public space in the centre of Madrid
Founding year:
Jahr der Gründung:
2010
Time period:
time period:
since 2010
Target Group:
Zielgruppe:
Campo de Cebada is a public square in the centre of Madrid that has been an experimental laboratory of self-management and direct democracy since 2010. The project mobilised the city's population and ensured that residents reclaimed their right to the city and negotiated it together. The result is a diverse movement that aims to expand urban community and communal plazas, re-communalise services of general interest and feminise politics. The square has an area of 2300 sqm and was created after the demolition of the multipurpose sports facility in the La Latina neighbourhood. The square is adjacent to one of Madrid's largest utility markets, the Mercado de la Cebada. After the demolition, a new urban community space was created in the heart of Madrid through the voluntary initiative of the residents. It was designed with bright colours, recycled materials and simple equipment. Campo de Cebada was designed by and for the people and hosts a variety of activities, including: Open-air theatre, open-air cinema, gardens, as well as numerous events and offerings in the fields of leisure, sports, comedy, music and dance. There are free walls for graffiti art, a literary festival (»Hostia un libro«) and various workshops and workshops.
Mobilising the urban population and creating new impulses and offers that create a new communal space and urban community. Campo de Cebada renegotiates urban space.
In 2013, Campo de Cebada received the Prix Ars Electronica cultural prize in the Digital Communities category, and in 2011 it received praise from the European Prize for Urban Public Space. Today, various parties are pushing the project forward. It is linked to other groups in the neighbourhood (AVECLA, AMPAS, FRAVM, among others) and involves all interested parties who want to participate. The city of Madrid is drawing up new development plans for the square, which envisage the construction of a new sports centre.
Initiators
Initiator*innen
Volunteers, initiative of the residents
Citizens, volunteers, residents' initiative (people who approve, build, promote, animate, advance, discuss, use the project)

Further information
Further Information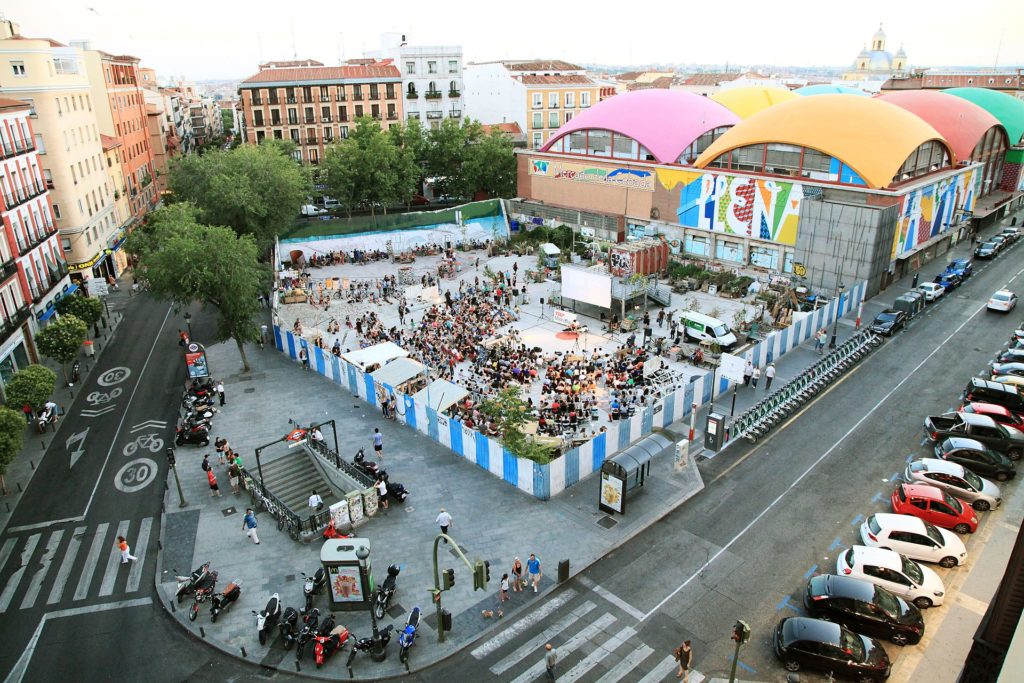 Campo de Cebada, 2014. Photo: Manuel Domínguez Fernández, License CC BY-SA 4.0. Source: Wikipedia
distance-l8 - 1920
distance-l7 - 1602
distance-l6 - 1568
distance-l5 - 1440
distance-l4 - 1325
distance-l3 - 1164
distance-l2 - 1080
distance-l1 - 1024
distance-s1 - 799
distance-s2 - 720
distance-s3 - 640
distance-s4 - 414
distance-s5 - 320