Fridays for Future
Global social student movement to save the climate
Founding year:
Jahr der Gründung:
2018
Time period:
time period:
since 2018
Target Group:
Zielgruppe:
»Why should I be studying for a future that soon may be no more, when no one is doing anything to save that future? And what is the point of learning facts when the most important facts clearly means nothing to our society?« Greta Thunberg

Fridays for Future (FFF) has been developing into a global protest and environmental movement since 2018. The global social movement is organised in Germany as an association of persons without legal capacity and sees itself as a grassroots, grassroots movement. They demand compliance with the goals of the Paris Agreement and the 1.5° target. As a protest action, students take to the streets on Fridays during school hours. The organisation does not have a board or spokesperson legitimised by the grassroots.

The aim of the FFF strikes is to draw attention to climate policy grievances and to initiate action for climate protection by politicians. In particular, compliance with the Paris Agreement is to be ensured.
FFF developed into a global movement that generated a lot of attention. As a result of the coverage, individuals became highlighted and better known. This person-centred reporting is controversial within the movement.
Initiators
Initiator*innen
Greta Thunberg
Fridays for Future
Further information
Further Information
Greta Thunberg in front of the Swedish Parliament in the »School Strike for Climate«, 2018. Photo: Anders Hellberg, 2018, Licence CC BY-SA 4.0. Source: Wikipedia
Kick-off rally of the Fridays for Future demonstration in Berlin on 25 January 2019. Photo: Leonhard Lenz. Source: Wikipedia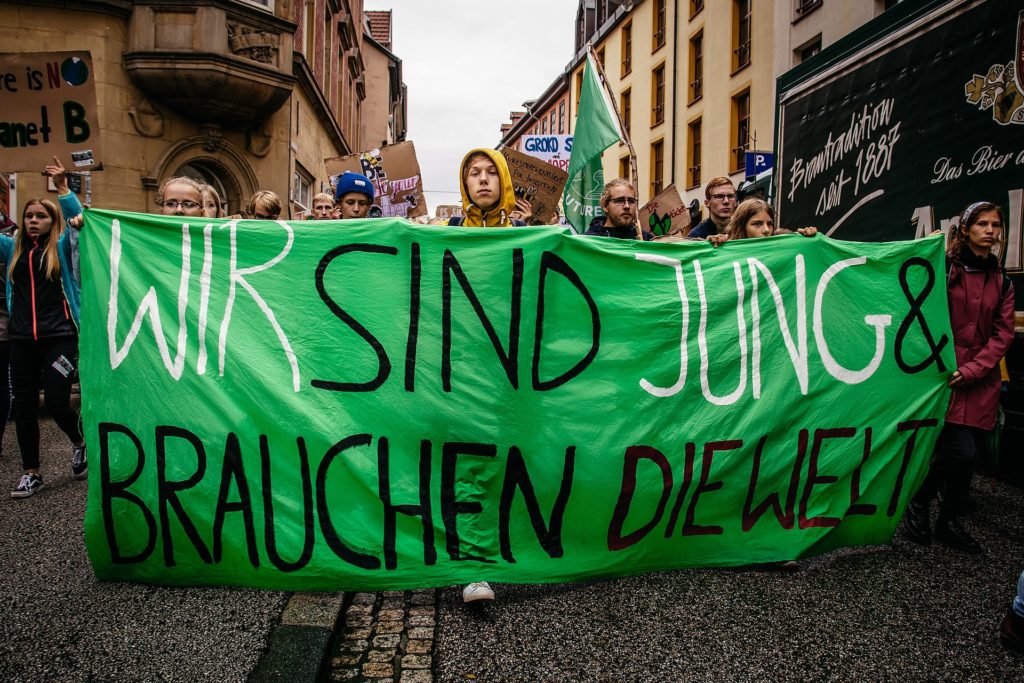 Front of the Fridays for Future climate strike in Erfurt on 27 September 2019, front banner with painted motif »We are young & need the world«. Photo: Tobias Möritz, 2019, licence CC BY-SA 4.0. Source: Wikipedia
distance-l8 - 1920
distance-l7 - 1602
distance-l6 - 1568
distance-l5 - 1440
distance-l4 - 1325
distance-l3 - 1164
distance-l2 - 1080
distance-l1 - 1024
distance-s1 - 799
distance-s2 - 720
distance-s3 - 640
distance-s4 - 414
distance-s5 - 320