Movimiento 15-M
Spanish protest movement with ephemeral occupations
Founding year:
Jahr der Gründung:
2011
Time period:
time period:
since 2011
various spanish cities, among others Barcelona, Madrid
in buildings, on the street
Target Group:
Zielgruppe:
The Spanish movement Movimiento 15-M was formed in May 2011 as an amalgamation of regional groups. The subsequent in part spontaneous protests and ephemeral occupations were largely organized via social networks and were directed against the consequences of the mortgage crisis and neoliberal policies on the housing market. Camps were set up in public spaces in various Spanish cities, including Barcelona and Madrid. In addition, there were various squats, in which activists joined forces with house residents threatened with foreclosure to protect properties from eviction. Social evils as well as economic and political grievances were demonstrated. Their direct-democratic structure is exemplary for a new form of protest.
The aim of the movement is to draw attention to existing social, economic and political problems, to show solidarity in protest, and to establish direct democratic structures and bring about changes in the law.
The initiative around the 15-M movement are considered to have paved the way for Podemos and other municipalist parties that have since found their way into parliaments.
PAH Plataforma de Afectados por la Hipoteca obtained a legislative initiative that was supported by a broad public. The initiative stipulates that no evictions may take place until the authorities provide alternative housing options.
Similar protest movements followed in other European countries, including »Aganktismenoi« in Greece, M12M in Portugal and solidarity rallies in Paris and Berlin, among others.
Initiators
Initiator*innen
Association of regional groups, including 15-M Movement and subgroups such as PAH Plataforma de Afectados por la Hipoteca.
regional groups / movement and participants
Further information
Further Information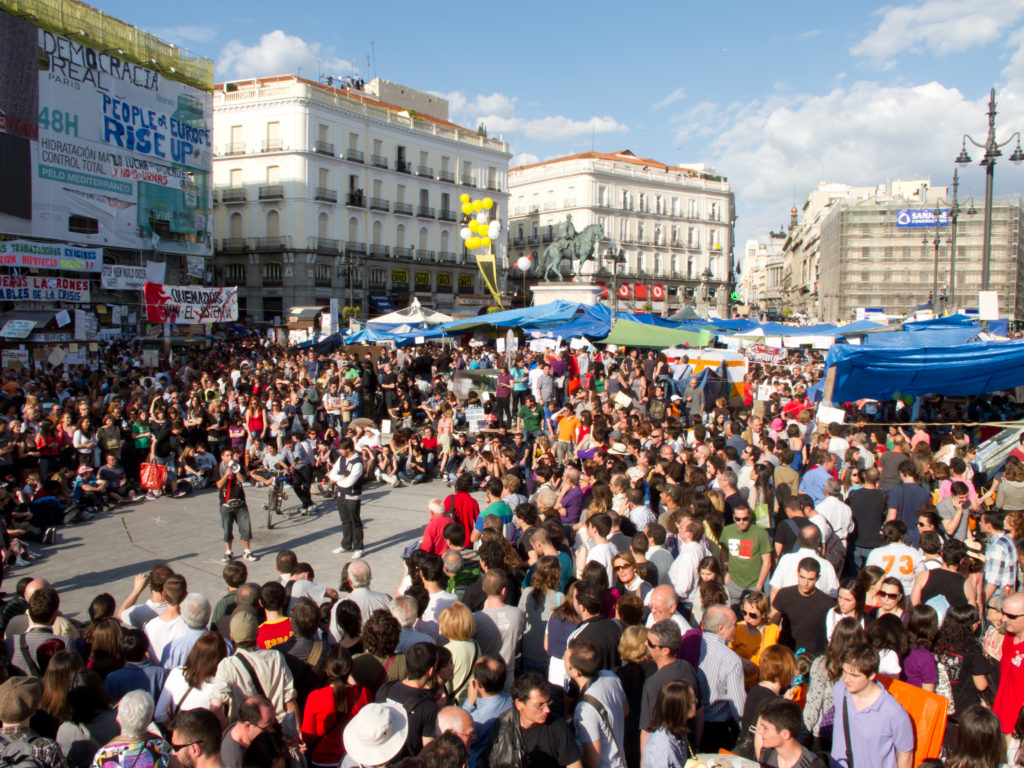 Demonstration, Puerta del Sol, Madrid, 20 May 2011. Photo: Carlos Delgado, CC BY-SA 3.0. Source: Wikipedia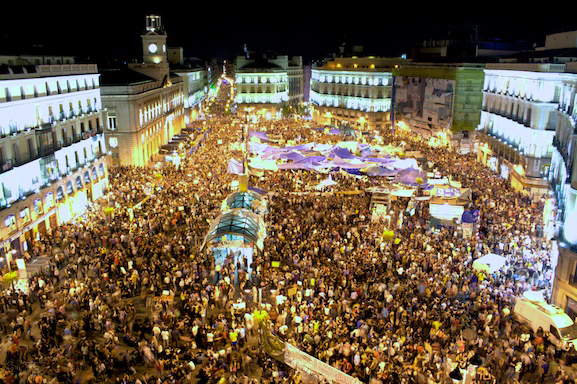 Puerta del Sol el 20 de mayo de 2011, 2011. Photo: Fotograccion – www.fotograccion.org, CC BY-SA 3.0. Source: Wikipedia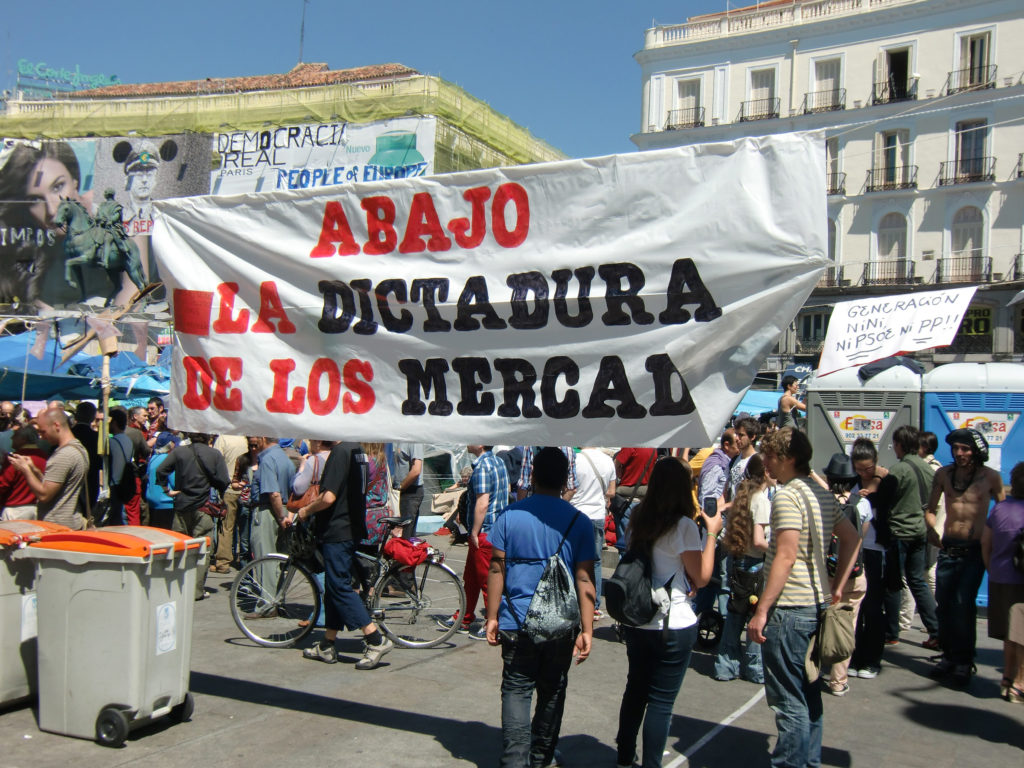 Pancarta de la Asamblea de Sol done hay escrito »Abajo la dictadura de los mercados«, 2011. Photo: Luis Fernández García, CC BY-SA 4.0. Source: Wikipedia
distance-l8 - 1920
distance-l7 - 1602
distance-l6 - 1568
distance-l5 - 1440
distance-l4 - 1325
distance-l3 - 1164
distance-l2 - 1080
distance-l1 - 1024
distance-s1 - 799
distance-s2 - 720
distance-s3 - 640
distance-s4 - 414
distance-s5 - 320