Ant Farm
Art collective for alternative architecture, graphic and environmental design
Founding year:
Jahr der Gründung:
1968
Time period:
time period:
1968-1978
Target Group:
Zielgruppe:
Artists
Students
Citizens
Everyone
In 1968, Doug Michels, Chip Lord and Curtis Schreier founded the architecture and art collective Ant Farm. The avant-garde group worked in the fields of performance, new media and site-specific installations. Michels described the group's work and goal as »underground architecture«. This understanding gave the group its name. Using American icons, they often criticised US politics and culture in their work. At the same time, they saw themselves as an art agency promoting ideas that had no commercial goal but a cultural and social value. In addition to their architectural works, they gained notoriety for their critical performances. In 1978, a fire destroyed the group's studio and they subsequently disbanded. The group's work includes: Electronic Oasis (1969), Cadillac Ranch (1974) and The Dolphin Embassy (1977). Richard Buckminster Fuller, Paolo Soleri and Archigram were among their models.
The group's initial goal was reformed education. In addition, the group stood for the promotion of artistic projects without a commercial goal, an architecture of the underground (often corresponding to a nomadic lifestyle) and countercultural and critical performances that were meant to inspire new perspectives.
Michels and Lord taught as visiting professors at the University of Houston. In 1968-1978, they produced numerous works that are still respected today. The free speech movement and the anti-war demonstrations in San Francisco influenced the group. They embraced the ideal of youth culture as well as the do-it-yourself attitude of the Whole Earth Catalog. In 1978, a fire destroyed the group's studio and they disbanded.
Initiators
Initiator*innen
Doug Michels and Chip Lord
Doug Michels, Chip Lord, Curtis Schreier, Douglas Hurr, Hudson Marquez

Further information
Further Information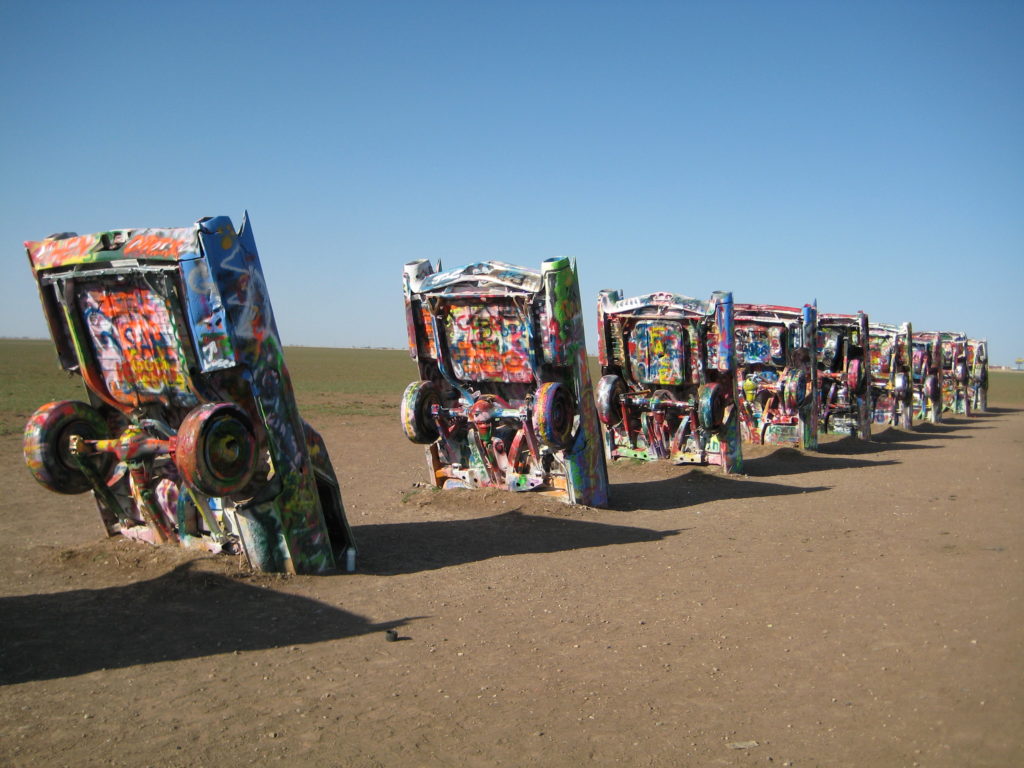 Ant Farm, »Cadillac Ranch« (1974), near Amarillo/Texas on Interstate I-40 in the course of Route 66. Photo: Richie Diesterheft, 2008, CC BY 2.0. Source: Wikipedia
distance-l8 - 1920
distance-l7 - 1602
distance-l6 - 1568
distance-l5 - 1440
distance-l4 - 1325
distance-l3 - 1164
distance-l2 - 1080
distance-l1 - 1024
distance-s1 - 799
distance-s2 - 720
distance-s3 - 640
distance-s4 - 414
distance-s5 - 320