Women´s Social and Political Union
Radical-bourgeois women's movement
Founding year:
Jahr der Gründung:
1903
United Kingdom of Great Britain and Northern Ireland
various, public space, government buildings
Target Group:
Zielgruppe:
Emmeline Pankhurst is considered the founder of England's suffragettes, a women's movement that fought for the right to vote and the political participation of women. Pankhurst devoted her entire life to the fight for women's rights. In 1903, she founded the Women's Social and Political Union (WSPU). Under her leadership and that of one of her daughters, the WSPU developed into the militant wing of the English women's movement: »If it is right for men to fight for their freedom, it is right for women to fight for their freedom and that of their children.« Among her many comrades-in-arms were her daughters. Following the motto »Deeds Not Words«, the suffragettes drew attention to their demands with various demonstrations and actions. They organised numerous demonstrations, broke shop windows and set fire to empty country houses and churches. The WSPU emerged from the efforts of the suffragettes.
Fight for women's social and political rights
Pankhurst's efforts and political activism founded other women's movements around the world. Her theory of non-violent resistance was adopted by the women's movement in the USA. After radicalisation of the movement leading to arson and bombings, she and her daughters were arrested several times. Her social and political commitment was not broken.
Initiators
Initiator*innen
Emmeline Pankhurst, Christabel Pankhurst, Adela Pankhurst, Sylvia Pankhurst, other women
WSPU
Further information
Further Information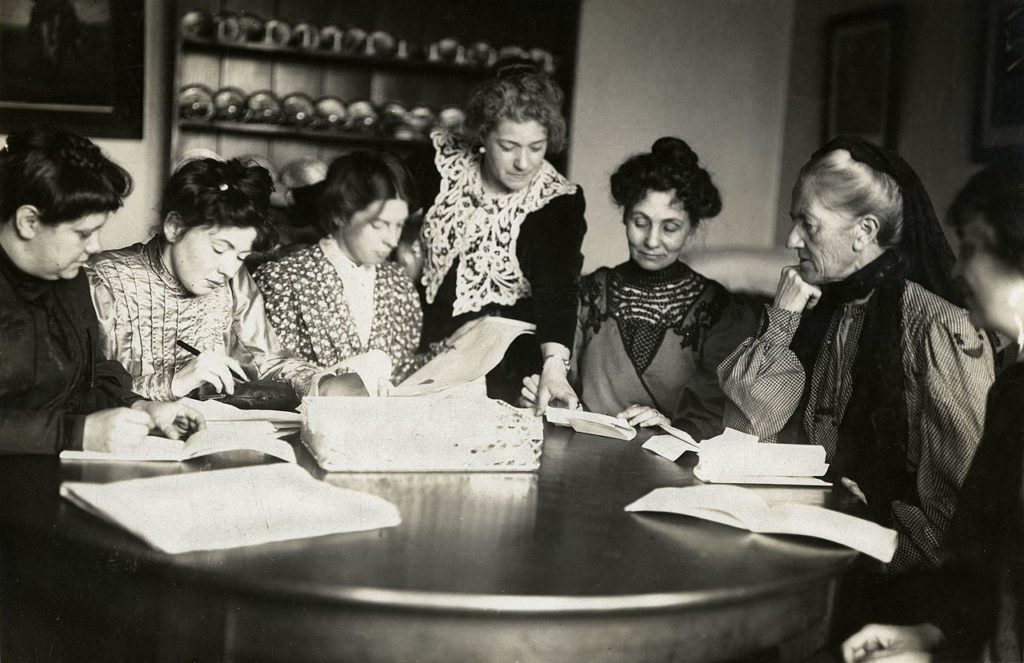 Meeting of Women's Social & Political Union (WSPU) leaders Flora Drummond, Christabel Pankhurst, Jessie Kenney, Nellie Martel, Emmeline Pankhurst and Charlotte Despard, ca. 1906/07. Photo: LSE Library, Source: flickr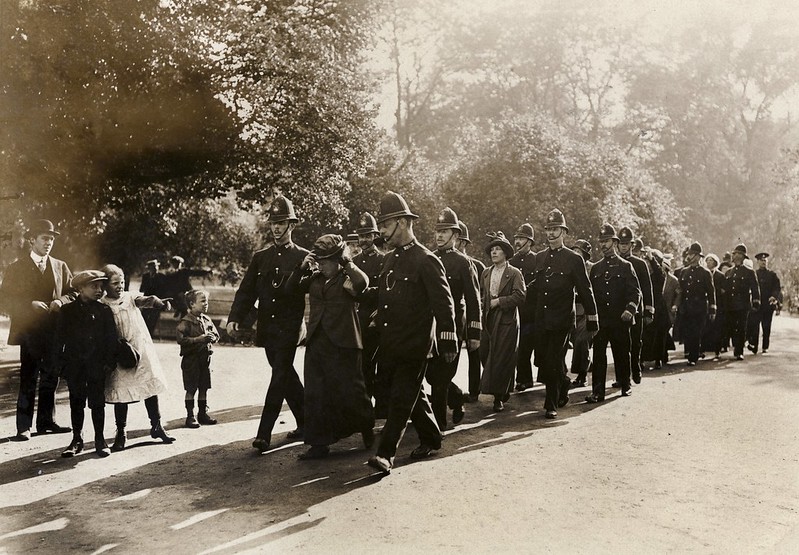 Flora Drummond and others under arrest, 1914. Drummond, WSPU organiser, was arrested nine times for her activism. Photo: LSE Library, Source: flickr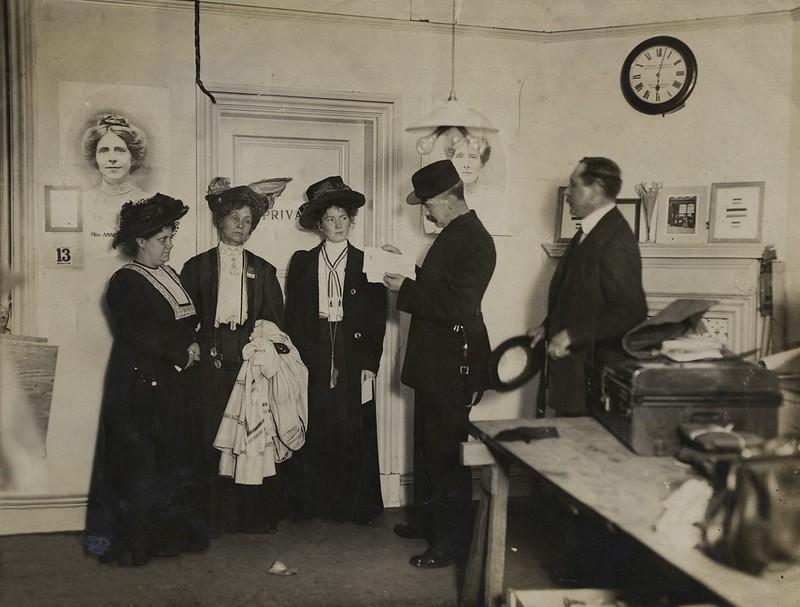 The arrest of Flora Drummond, Emmeline and Christabel Pankhurst, WSPU offices at Clement's Inn, 1908. Photo: LSE Library, Source: flickr
A Women's Social & Political Union (WSPU) office, 1913. Photo: LSE Library. Source: flickr
distance-l8 - 1920
distance-l7 - 1602
distance-l6 - 1568
distance-l5 - 1440
distance-l4 - 1325
distance-l3 - 1164
distance-l2 - 1080
distance-l1 - 1024
distance-s1 - 799
distance-s2 - 720
distance-s3 - 640
distance-s4 - 414
distance-s5 - 320